Teoc's Coffee Karamell
Ms Mell is one special girl . . .nothing scares her and she wants to explore everything . .this will be one interesting hound to watch grow up and we can't wait!
Health Clearances
We will be having all OFA required genetic testing performed as Mell reaches the right age for them. She was lucky enough to be accepted in a special program that OFA offered for bloodhounds and was able to have her hips/elbows x-rayed at 1 year of age and found to be good - we will have the official ones and the rest of the testing completed at 2 years of age.
OFA CHIC DNA REPOSITORY BL-DNA-128/B
DNA AKC DNA Profile #V963092
DM  OFA #BL-DM570/3F-PI-CAR 
Hips - OFA Report #2231999 (Mild Hip Dysplasia on left side with subluxation)
 Elbows - OFA #BL-El1486F24-C-VPI    Normal
Patellar Luxation - OFA #BL-PA174/24F/P - VPI   Normal - Practitioner
Thyroid - OFA #BL-TH164/24F-VPI   Normal
Cardiac - OFA #Bl- BC-BCA60/24F/P-VPI    Normal/Clear- Practitioner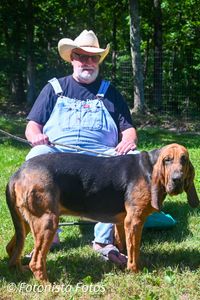 Teoc's Saved By Dawn's Early Light Hugo

Teoc's Cooper Shug Be Humble

Teoc's Lexus of the South

Better Hands Sargent Willie Wonka

Sand Mountains Victoria's Secret

Teoc's Justice Will Be Served

Jones' Scarlett Annabelle

Jones' Empress of Ambition

Teoc's Mollie Makin' Music

Diablo Lamborghini Od Hadiho Potoka

Teoc's Morgan Bring It On

Tills Bloodhound Hill Rocketman Jones

Boho's Gypsy Lights Up the Night

Teoc's Cooper Shug Be Humble

Teoc's Justice Will Be Served

Teoc's Brandi Plays A Bluegrass Tune

Tills Bloodhound Hill Rocketman Jones

Jones' Rise To The Occasion